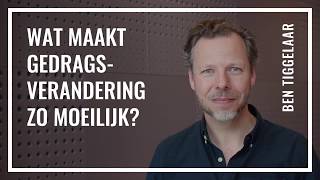 Live Online Masterclass Gedragsverandering van Ben tiggelaar
Today is a good day to be on your best behaviour.
Leren en ontwikkelen is goed voor je, het liefst een leven lang. Daar is iedereen in HR en L&D het wel over eens. Toch blijkt de praktijk weerbarstiger. Hoe leuk en aantrekkelijk we leren ook maken, het blijft lastig voor mensen om de eerste stap te zetten. Hoe komt dit? En belangrijker: wat doe je eraan? Daar kom je achter tijdens de Live Online Masterclass van Ben Tiggelaar op vrijdag 19 maart! Ben behandelt van 14:30 tot 16:00 uur deze en nog veel meer vragen over gedragsverandering.
over Ben Tiggelaar
Ben Tiggelaar is bestsellerauteur, internationaal spreker en gedragswetenschapper. Al ruim 30 jaar houdt hij zich bezig met leiderschap, verandering en menselijk gedrag. Maar liefst acht van zijn boeken bereikten de nummer één positie in de Nederlandse management top 100. Daarnaast is Ben bekend van zijn seminars (MBA in één dag); zijn podcast en radioshow (elke week bij BNR); doceert hij aan diverse universiteit en business-school; en zijn columns (elk weekend in NRC).